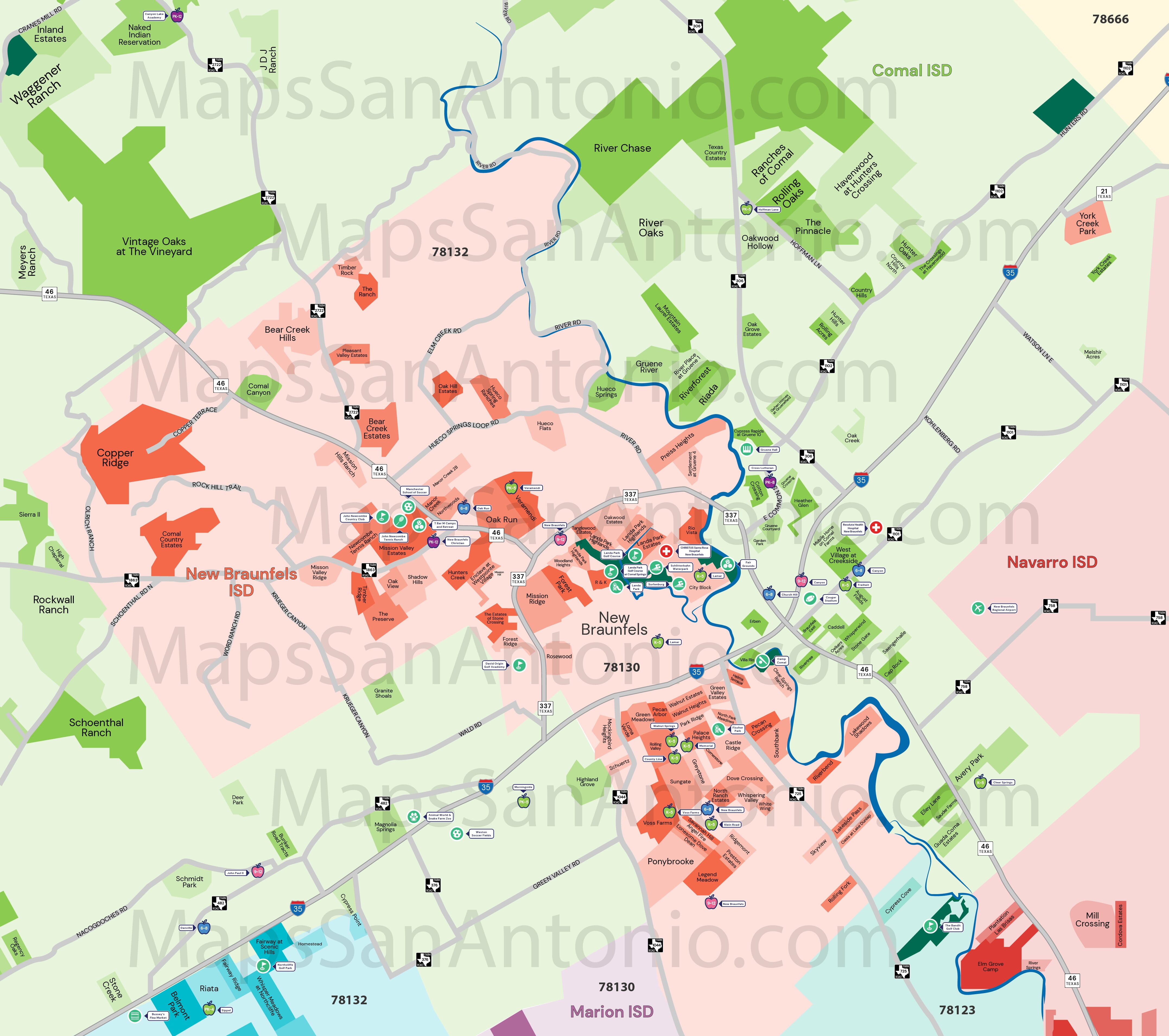 Neighborhood Details
Welcome to New Braunfels, San Antonio. The town is a popular destination for all Texas residents, known for its German heritage. Residents often know their lineage and celebrate it in their daily lives. 
WurstFest is an annual celebration of food and music, honoring the town's German heritage, founded in the 1800's. Stretching 10 days in November, New Braunfels offers live Alpine and Bavarian-style entertainment.
New Braunfels is home to an incredible number of breweries, which you can visit on the Hill Country Craft Beer Trail. This full and half-day guided tour offers tastings of skillfully blended traditional and creative craft beers.  
New Braunfels has a selection of outdoor activities including, but not limited to: Rockin' R River Rides, tubes, rafts, kayaks paddle boards and other equipment to enjoy the Guadalupe and Comal Rivers. Want to stay on land? Take a tour in Natural Bridge Caverns on the border of New Braunfels and San Antonio. In 1960, discovered by a group of St. Mary's University students, the caverns are today one of the most popular attractions in Texas.
Zip Codes
78123, 78130, 78132, 78666
Points of Interest
Animal World & Snake Farm Zoo
David Origin Golf Academy
John Newcombs County Club
John Newcombs Tennis Ranch
Landa Park Golf Course at Comal Springs
Manchester School of Soccer
New Braunfels Regional Airport
T Bar M Camps and Retreat
Hospitals
Christus Santa Rosa Hospital New Braunfels
Resolute Health Hospital New Braunfels
Subdivisions
Angel Fire, August Fields, Avery Park, Bear Creek Estates, Bear Creek Hills, Belmont Park, Braunfels, Bunker Road Tracks, Caddell, Cap Rock, Castle Ridge, City Block, Clear Springs Ranch, Comal Canyon, Comal Country Estates, Copper Ridge, Cordova Estates, Cornerstone, Cotton Crossing, Country Hill North, Country Hills, Cypress Cove, Cypress Point, Cypress Rapids at Gruene 10, Dean, Deer Park, Dove Crossing, Elley Lane, Elm Grove Camp, Enclave at Westpointe Village, Erben, Fairway at Scenic Hills, Fairway Ridge, Forest Park, Forest Ridge, Garden Park, Granite Shoals, Green Meadows, Green Valley Estates, Greystone, Gruene Crossing, Gruene River, Guada Coma Estates, Guhan Homes at Gruenefields, Havenwood at Hunters Crossing, Helms Terrace, High Chaparral, Highland Grove, Homestead, Hueco Flats, Hueco Springs Ranches, Hueco Springs, Hunter Creeks, Hunter Hills, Hunter Oaks, Inland Estates, J D J Ranch, Lakeside Pass, Lakewood Shadows, Landa Park Estates, Landa Park Highlands, Las Brisas, Legend Meadow, Loma Verde, Lonesome Dove, Magnolia Springs, Manor Creek, Melshir Acres, Meyers Ranch, Mill Crossings, Mission Hills Ranch, Mission Ridge, Mission Valley Estates, Mission Valley, Mobile Home on Comal Farms, Mockingbirds Heights, Mountain Laurel Estates, Naked Indian Reservation, Newcombe Tennis Ranch, North Park Meadows, North Ranch Estates, Northwoods, Oak Creek, Oak Grove Estates, Oak Hill Estates, Oak Run, Oak View, Oakwood Estates, Oasis at Lake Dunlap, Oelkers Acres, Palace Heights, Park Ridge, Pecan Arbor, Pecan Crossing, Plantation, Pleasant Valley Estates, Ponybrooke, Preiss Heights, Preston Estates, R & K, Ranches at Comal, Regency Oaks, Riada, Riata, Ridgemont, Rio Vista, River Chase, River Oaks, River Springs, Riverbend, Riverforest, Riverplace at Gruene 1, Rivertree, Rockwall Ranch, Rolling Acres, Rolling Fork, Rolling Oaks, Rolling Valley, Rosewood, Saengerhalle, Sauder Farms, Savannah Hill, Schmidt Park, Schoenthal Ranch, Schuertz, Settlement at Gruene 4, Shadow Hills, Sierra II, Skyview, Southbank, Stone Creeek, Stone Gate, Sungate, Tanglewood Estates, Texas Country Estates, The Crossing at Havenwod, The Estates of Stone Crossing, The Pinnacle, The Preserve, The Ranch, Timber Ridge, Timber Rock, Veramendi, Villa Rio, Vintage Oaks at The Vineyard, Voss Farms, Waggerner Ranch, Walnut Estates, Walnut Heights,West Village at Creekside, Whisper Meadows at Northcliffe, Whispering Valley, Whisperwind, White Wing, Woodland Heights, York Creek Estates, York Creek Park
Location
View Larger Map