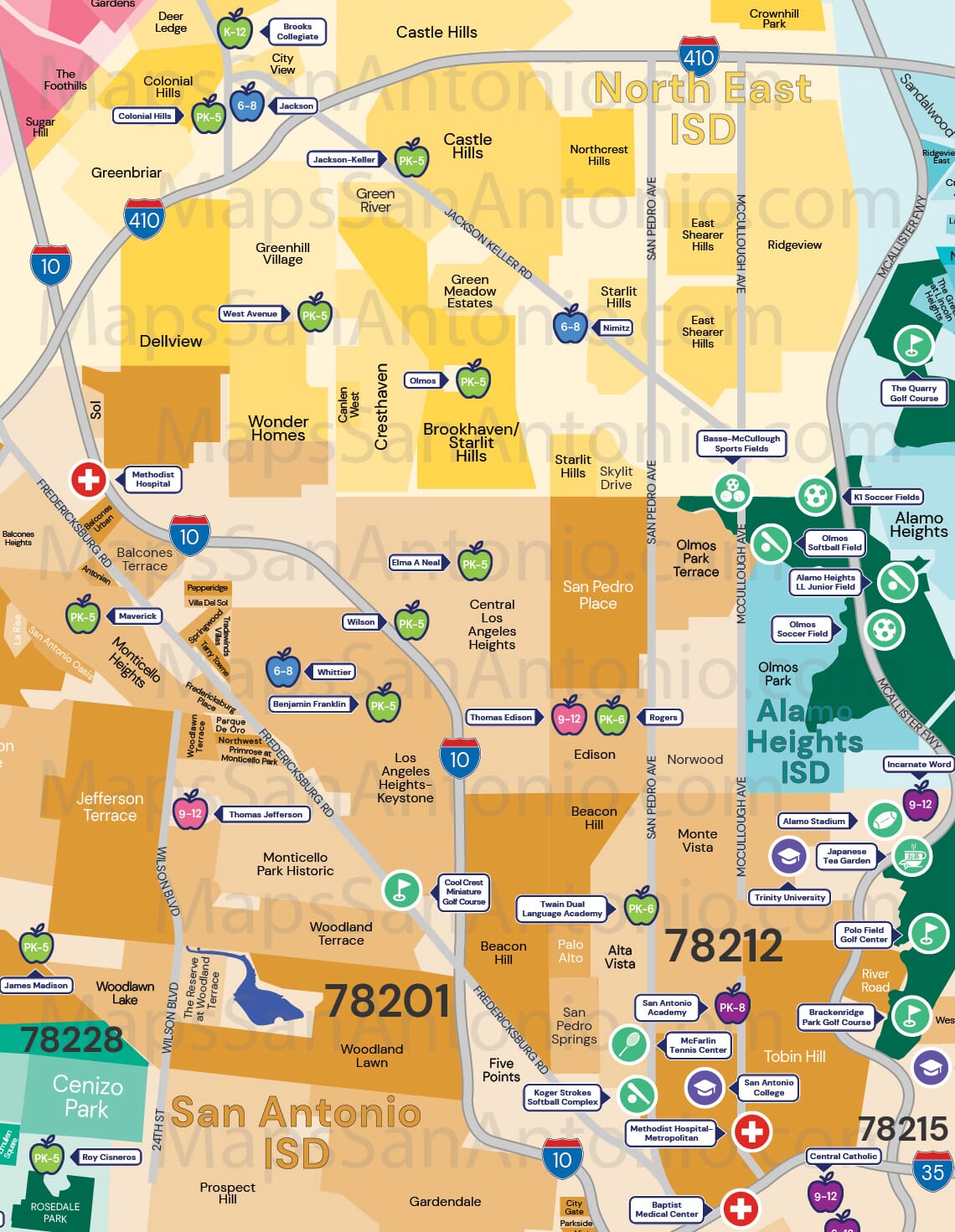 Neighborhood Details
North Central San Antonio is served by Alamo Heights ISD, San Antonio ISD, and North East ISD.
The area includes the City of Olmos Park, established in the 1920s as a posh suburb of San Antonio. Today, San Antonio completely surrounds Olmos Park. The area is known for big lots with elegant properties, mature trees, and 1920s architecture. Indeed, Olmos Park has been home to billionaires including Red McCombs, Rodney Lewis, and Southwest Airlines CEO and co-Founder, Herb Kelleher. Olmos Park was established on the site where Camp John Wise was built in 1917. The camp was a US Army baloonist training site, which shut down in 1919 after balloon training moved to Brooks Field.
Nearby, another enclave, Olmos Park Terrace was built by the same developer in the 1930s. In 2007, Olmos Park Terrace was designated a San Antonio Historic District.
Another San Antonio Historic District, Tobin Hill, is located in North Central San Antonio and received it's designation in 2007 and 2008.
North Central is home to the Pearl District. The City Brewery was founded in 1883, and by 1887, the brewery began producing Pearl Beer. A new brewhouse was constructed by 1894. Pearl Brewing Company had an incredible 118-year history brewing along the San Antonio River. By 2001, the brewery closed for good. In 2001, a San Antonio firm purchased the 23-acre site for mixed-use development. Today, Pearl District is home to residents, restaurants, farmers markets, hotels, the Culinary Institute of America, and an amphitheater.
Zip Codes
78201, 78212, 78215, 78228
Elementary Schools
Twain Dual Language Academy
Points of Interest
Alamo Heights LL Junior Field
Basse-McCullough Sports Fields
Brackenridge Park Golf Course
Cool Crest Miniature Golf Course
Koger Strokes Softball Complex
Hospitals
Methodist Hospital-Metropolitan
Subdivisions
Alamo Heights, Alta Vista, Antonian, Belcones Heights, Balcones Terrace, Balcones Urban, Beacon Hill (78201), Beacon Hill (78212), Canlen West, Castle Hills, Cenizo Park, Central Los Angeles Heights, City View, Colonial Hills, Cresthaven, Crownhill Park, Deer Ledge, Dellview, East Shearer Hills, Edison, Five Points, Fredericksburg Place, Gardendale, Green Meadow Estates, Green River, Greenbriar, Jefferson Terrace, La Risa, Los Angeles Heights-Keystone, Monte Vista, Montecillo Heights, Montecillo Park Historic, Northcrest Hills, Northwest, Norwood, Olmos Park Terrace, Olmos Park, Palo Alto, Pepperidge, Perque De Oro, Primrose at Monticella Park, Prospect Hill, Ridgeview, River Road, San Antonio Oasis, San Pedro Place, Skylit Drive, Sol, Springwood, Starlit Hills (78212), Starlit Hills (78216), Sugar Hills, Tarry Town, The Foothills, The Reserve at Woodland Terrace, Tobin Hill, Tradewinds Villas, Villa Del Sol, Wonder Homes, Woodland Lawn, Woodland Terrace, Woodlawn Lake
Location
View Larger Map