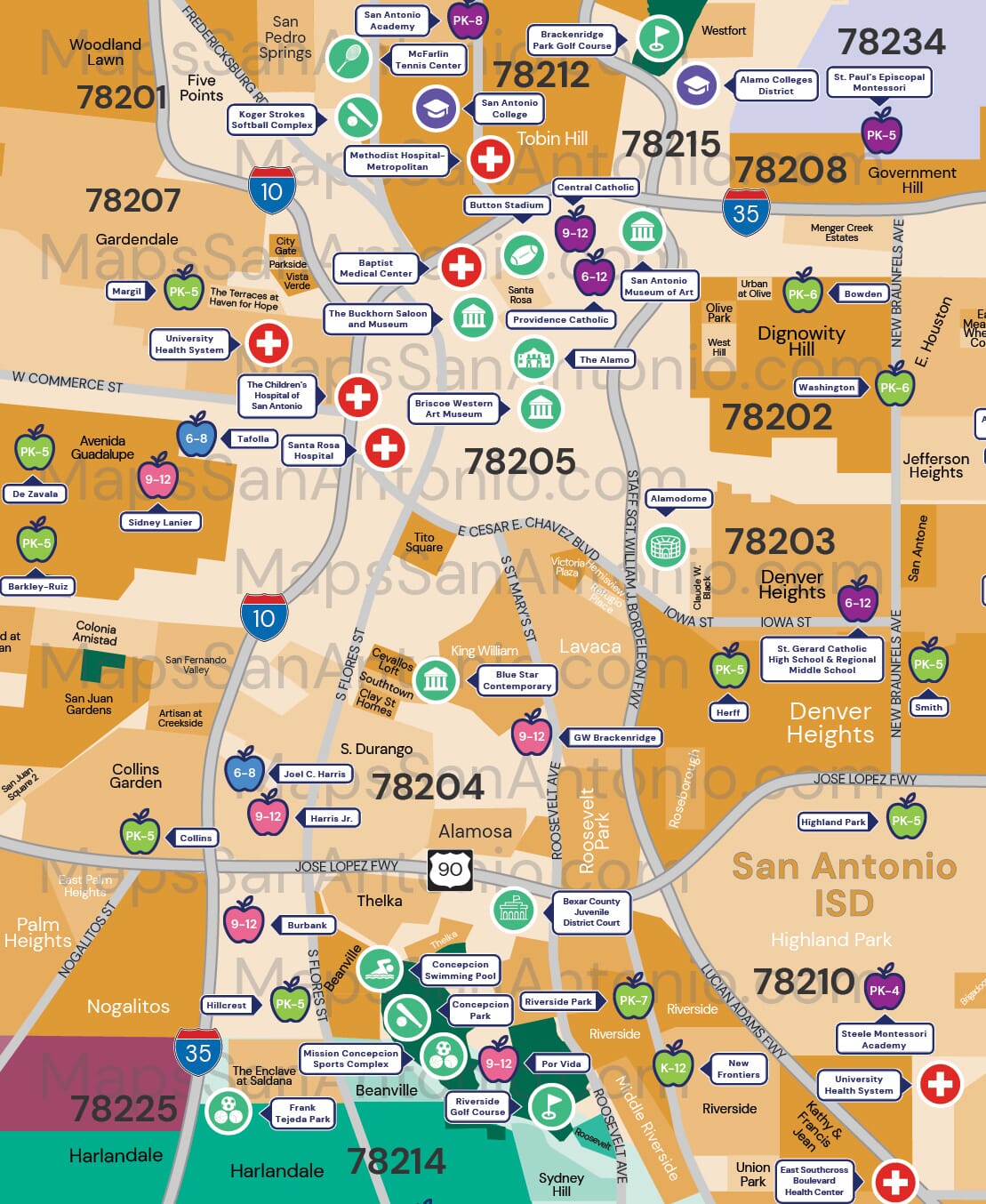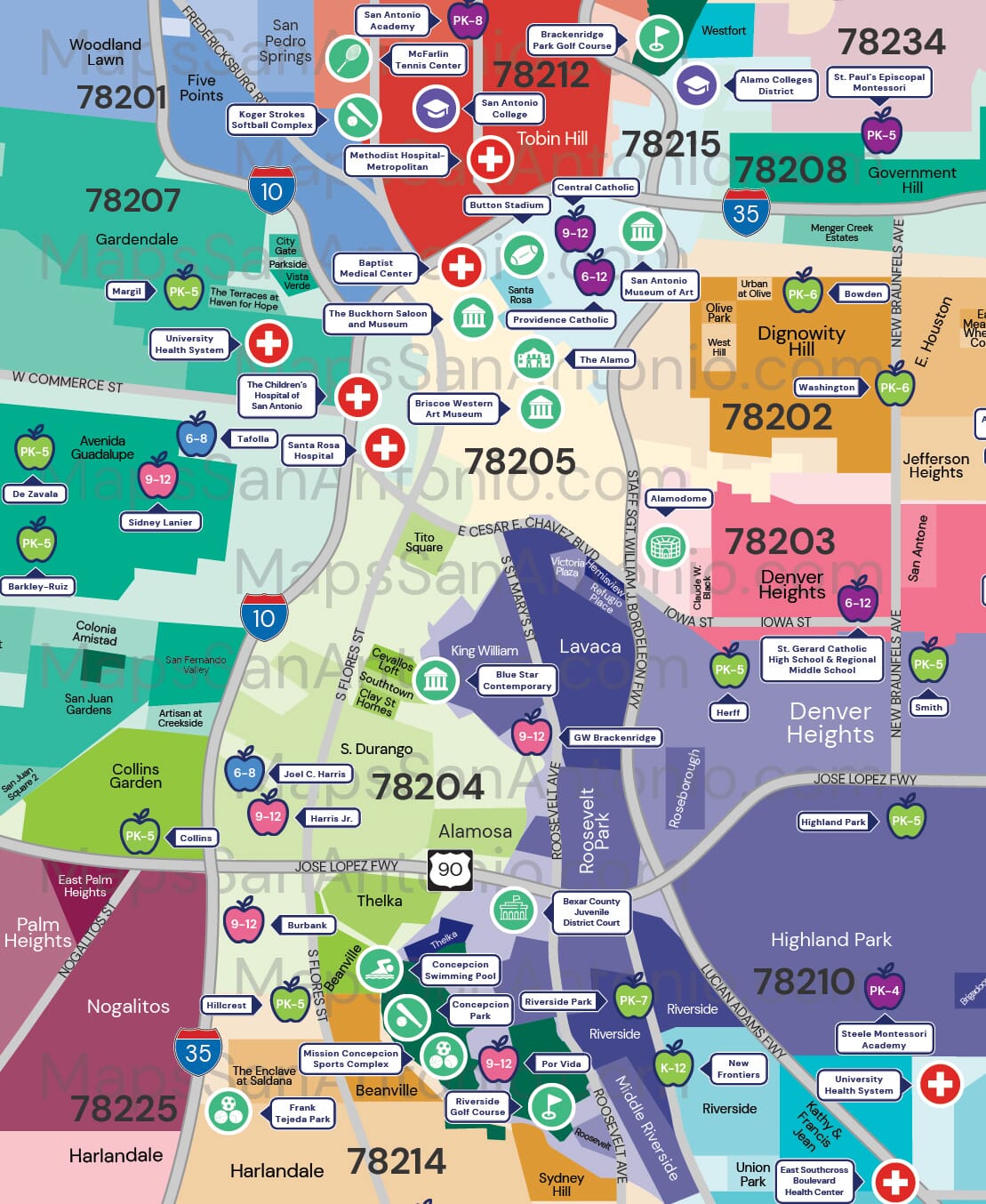 Neighborhood Details
Downtown, San Antonio is the most popular and high-traffic area in San Antonio, Texas.
Picture this!
Sitting outside a cafe, eating breakfast on the #1 attraction in San Antonio (and all of Texas), called The San Antonio River Walk. Shop at Historic Market Square, a favorite of locals and tourists, with live music and community events. Nearby, visit The Alamo, a jewel of Texas heritage. Downtown is home to additional, incredible museums, including but not limited to: McNay Art Museum (first modern art museum in Texas), San Antonio Museum of Art, Ripley's Believe It or Not!, Louis Tussaud's Waxworks, and White Museum. 
La Villita is another popular spot for residents in 78205. Accessible via River Walk, La Villita occupies an artsy block in the heart of downtown San Antonio. This treasured artisan district is home to more than 25 shops and galleries, hosting more than 200 events annually.
As your downtown day winds down, and River Walk Cruises zip by, downtown living offers a plethora of places to go to and excitement each day.
Zip Codes
78201, 78202, 78203, 78204, 78205, 78208, 78210, 78214, 78207, 78212, 78215
Private Schools
St. Gerard Catholic High School & Regional Middle School
Steele Montessori Academy
Points of Interest
Brackenridge Park Golf Course
Briscoe Western Art Museum
The Buckhorn Saloon and Museum
Koger Strokes Softball Complex
Mission Concepcion Sports Complex
San Antonio Museum of Art
Hospitals
East Southcross Blvd. Health Center
Methodist Hospital Metropolitan
Subdivisions
Alamosa, Artisan Creekside, Avenida Guadalupe, Beanville (78204), Beanville (78214), Cevallos Loft, City Gate, Claude West Black, Clay Street Homes, Collins Garden, Colonia Amistad, Denver Heights (78203), Denver Heights (78210), Dignowity Hills, East Houston, East Palm Heights, Five Points, Gardendale, Government Hill, Harlandale, Hemisview, Highland Park, Jefferson Heights, Kathy & Francis Jean, King William, Lavaca, Menger Creek Estates, Middle Riverside, Nogalitos, Olive Park, Palm Heights, Parkside, Refugio Place, Riverside (78210), Riverside (78223), Roosevelt Park, Roosevelt, Roseborough, San Antone, San Fernando Valley, San Juan Gardens, San Juan Square 2, San Pedro Springs, Santa Rosa, South Durango, Southtown, Sydney Hill, The Enclave at Saldana, The Terrace at Haven for Hope, Thelka (78204), Thelka (78210), Tito Square, Tobin Hills, Union Park, Urban at Olive, Victoria Plaza, Vista Verde, West Hill, Westfort, Woodland Lawn
Location
View Larger Map