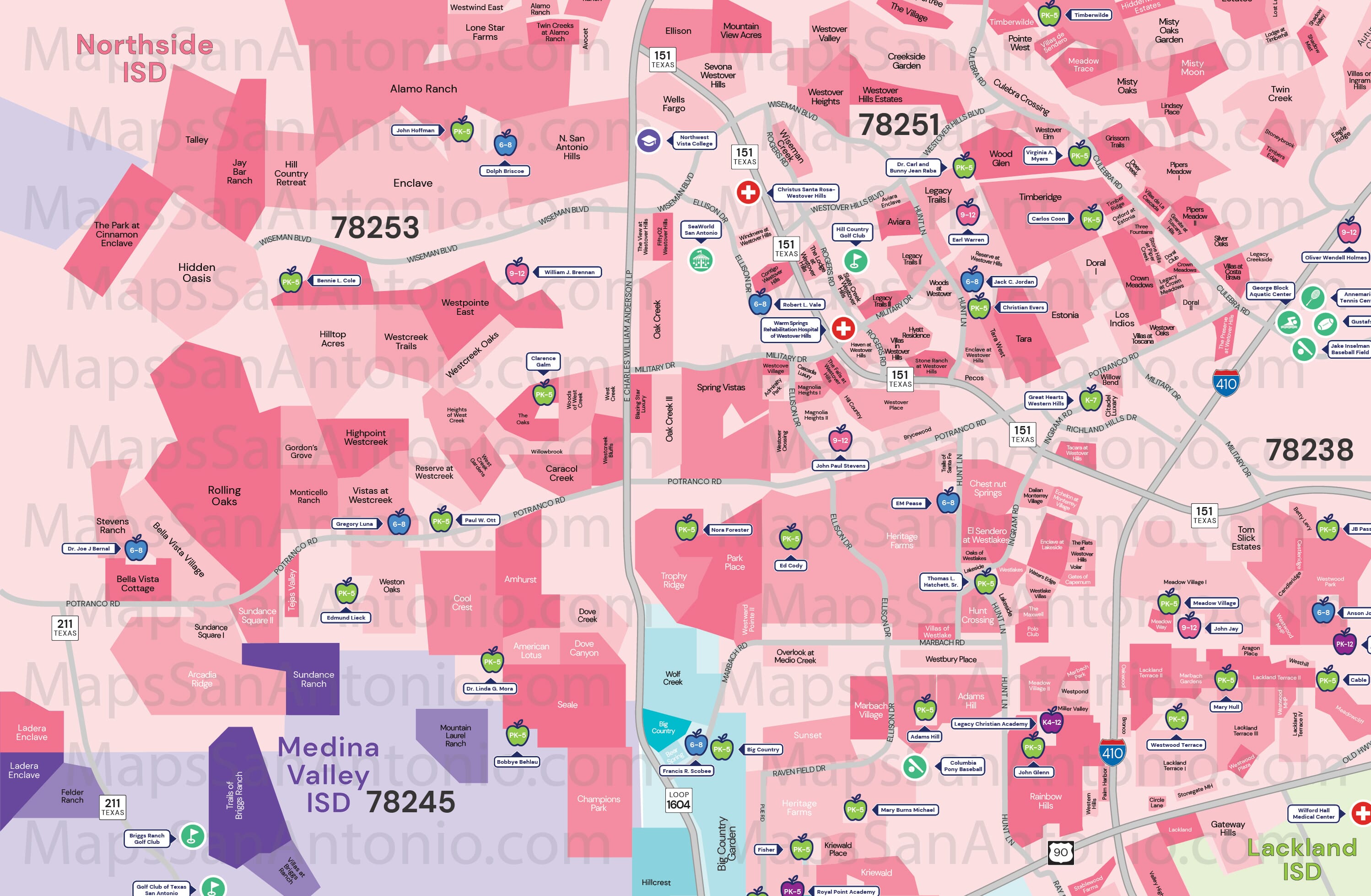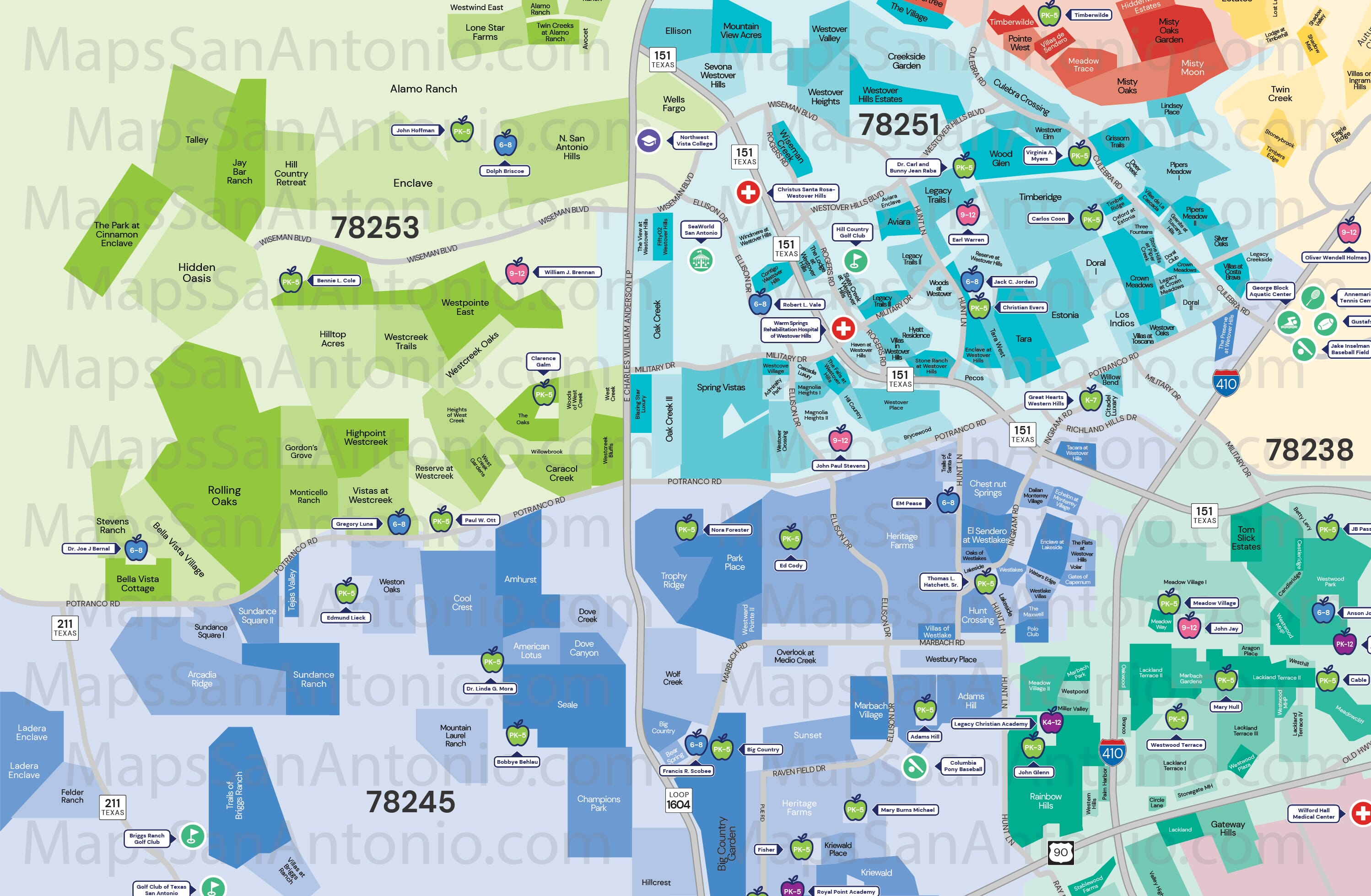 Neighborhood Details
Located in the beautiful Hill Country of Texas, West San Antonio offers incredible features for first-time home buyers, seasoned investors, and everyone in-between. West SA offers spacious lots, excellent schools, and also some gated communities for those homebuyers who prefer added safety. This area of SATX offers competitive prices for homes, which has made it a sought-after area for homebuyers. 
An arrangement of home types can be found in West San Antonio. Communities ranging from Alamo Ranch to North Crossing, can also be found inside the area. There are many master-planned communities in this area that offer additional amenities.
West San Antonio is served by incredible school districts: Northside ISD, Medina Valley ISD and Lackland ISD.
There are many fun things to do in West San Antonio, which is home to shopping, entertainment, Lackland AFB, and SeaWorld San Antonio.
Spacious, tranquil and welcoming! Settle down in West San Antonio.
Zip Codes
78238, 78245, 78251, 78253
Elementary Schools
Dr. Carl and Bunny Jean Raba
Great Hearts Western Hills
Points of Interest
George Block Aquatic Center
Jake Inselman Baseball Field
Hospitals
Christus Santa Rosa Hospital-Westover Hills
Warm Springs Rehabilitation Hospital of Westover Hills
Wilford Hall Medical Center
Subdivisions
Avocet, Adam Hill, Admiralty Park, Alamo Ranch, American Lotus, Aragon Place, Arcadia Ridge, Amhurst, Aviara Enclave, Aviara, Bear Spring, Bella Vista Collage, Bella Vista Village, Betty Levy, Big Country Garden, Big Country, Blazing Star Luxury, Bronco, Brycewood, Candleridge, Caracol Creek, Cascadia Luxury, Castleridge, Champions Park, Chestnut Springs, Circle Lane, Citadel Luxary, Contigo Westover Hills, Cool Crest, Creekside Garden, Crown Meadows, Culebra Crossing, Dalian Monterrey Village, Deer Creek, Doral Club, Doral I, Doral II, Dove Crayon, Dove Creek, Eagle Ridge, Echelon at Monterrey Village, El Sendero at Westlakes, Ellison, Enclave at Lakeside, Enclave at Westover Hills, Enclave, Estonia, Felder Ranch, Fifty02 Westover Hills, Gates of Capernum, Gateway Hills, Gordon's Grove, Granite Tuscany Hills, Grissom Trails, Haven at Westover Hills, Heights of West Creek, Heritage Farms, Hidden Oasis, Highpoint Westcreek, Hill Country, Hill County Retreat, Hillcrest, Hilltop Acres, Hyatt Residence, Jay Bar Ranch, Kriewald Place, Kriewald, Lackland Terrace I, Lackland Terrace II, Lackland Terrace II, Lackland Terrace III, Lackland Terrace IV, Lackland, Ladera Enclave, Lakeside, Legacy at Crown Meadows, Legacy Creekside, Legacy Trails I, Legacy Trails II, Legacy Trails II, Lindsey Place, Lodge at Timberhill, Lone Star Farms, Los Indios, Magnolia Heights I, Magnolia Heights II, Marbach Gardens, Marbach Park, Marbach Village, Meadow Trace, Meadow Village I, Meadow Village II, Meadow Way, Meadowcliff, Miller Valley, Misty Moon, Misty Oaks Garden, Misty Oaks, Monticello Ranch, Mountain Laurel Ranch, Mountain View Acre, North San Antonio Hills, Oak Creek III, Oak Creek, Oaks of Westlakes, Oakwood, Overlook at Medio Creek, Oxford at Estonia, Palm Harbor, Park Place, Peco, Pipers Meadows I, Pipers Meadows II, Pointe West, Polo Club, Rainbow Hills, Reserve at Westcreek, Reserve at Westover Hills, Rolling Oaks, Seale, Sevona Westover Hills, Shadow Mist, Shadow Valley, Silver Oaks, Slate Creek at Westover Hills, Spring Vistas, Stablewood Farms, Stevens Ranch, Stone Hills at Piper Creek, Stone Ranch at Westover Hills, Stoneybrook, Sundance Ranch, Sundance Square I, Sundance Square II, SunsetTalley, Tara West, Tara, Tacara at Westover Hills, Tejas Valley, The Falls at Westover Hills, The Flats at Westover Hills, The Lodge at Westover Hills, The Maxwell, The Oaks, The Park at Cinnamon EnclaveThe Preserve at Westover Hills, The View at Westover Hills, The Village, Three Fountains, Timber Ridge, Timbers Edge, Timberwilde, Tom Slick Estates, Trails of Briggs Ranch, Trophy Ridge, Twin Creek at Alamo Ranch, Twin Creek, Village de Sendero, Villas at Ranch, Villas at Toscana, Villas Costa Brava, Villas De La Cascada, Villas in Westover Hills, Villas of Westlake, Vistas at Westcreek, Volar, Waters Edge, Wells Fargo, West Creek Gardens, West Creek, Westbury Place, Westcove Village, Westcreek Bluffs, Westcreek Oaks, Westcreek, Trails, Western Hills, Westhill, Westlake Villas, Westlakes, Weston Oaks, Westover Crossing, Westover Elm, Westover Heights, Westover Hills Estates, Westover Oaks, Westover Place, Westover Valley, Westpointe East, Westpond, Westward Point II, Westwood MHP, Westwood Park, Westwood Plaza, Willow Bend, Willowbrook, Windemere at Westover Hills, Wiseman Creek, Wolf Creek, Wood Glen, Woods at Westover, Woods of West Creek
Location
View Larger Map