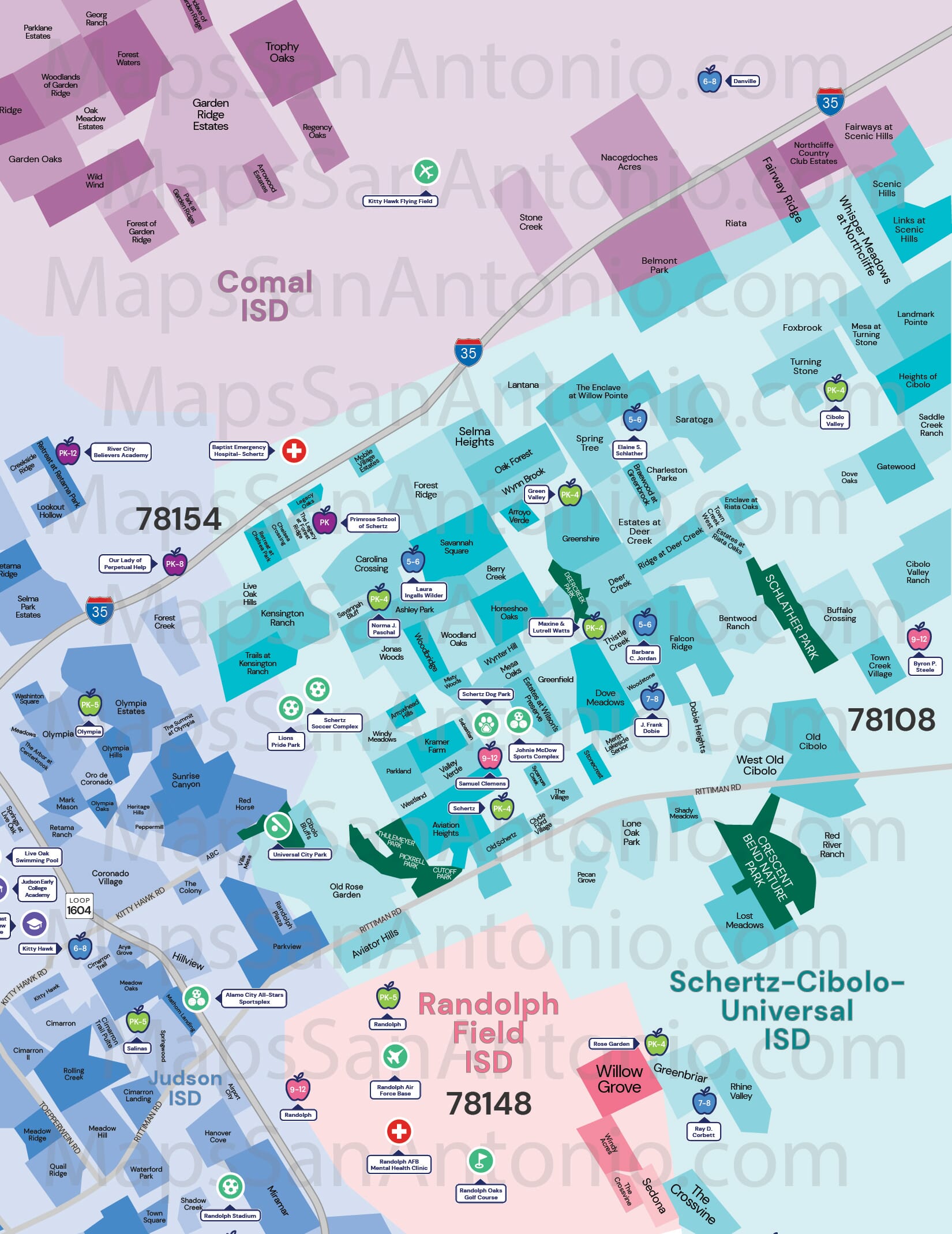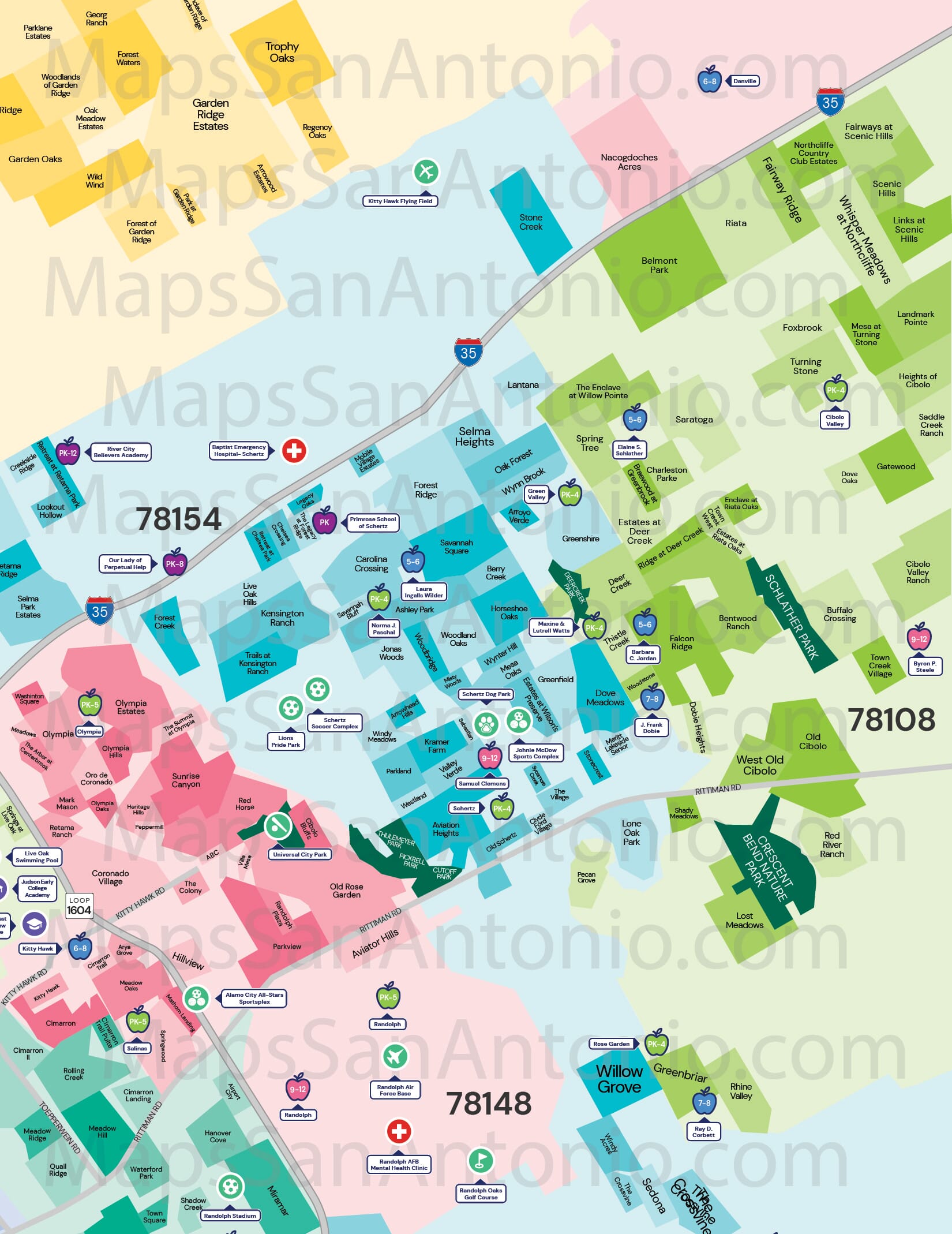 Neighborhood Details
Hello from Universal City, San Antonio! Wanna go green? Universal City is the "first green-powered area in Texas." Acknowledged by the Environmental Protection Agency (EPA) for the innovative use of Windtricity. The city also takes part in converting to more environmental and sustainable amenities; installing LED traffic signals and using HVAC systems. 
The population of Universal City was 19,720 at the 2020 census, up from 18,530 in the 2010 census. Many residents are retired military or active military as Universal City is adjacent to Randolph Air Force Base, which opened in 1931. In 2010, Randolph AFB merged with Lackland Air Force Base and the US Army's Fort Sam Houston to form Joint Base San Antonio.
Joint Base San Antonio is a National Historic Landmark sprawling 405 acres, rich with history. Please review application requirements to visit because the base is a restricted area that requires an entry pass and possibly other application requirements.
Universal City is served by Judson ISD, Randolph Field ISD and Schertz-Cibolo-Universal City ISD. Private schools include: Calvary Chapel Christian Academy (CCCA) and First Baptist Academy of Universal City (FBA).
There are many exciting things for residents to do in Universal City. The City's Disc Golf Park is popular with residents as well as nearby San Antonio Model Railroad Association with train shows and community events. 
Another unique and fun place to visit is Barney Smith's Toilet Seat Art Museum. Yes, you read correctly: a toilet seat art museum! Creator, Barney Smith, was a master plumber and now the artist behind this wonderful museum of toilet seats showing various topics. His collection reaches beyond 1,200 seats. Cheers! 
Private Schools
Our Lady of Perpetual Help
Primrose Schools of Schertz
River City Believers Academy
Points of Interest
Alamo City All-Stars Sportsplex
Johnie McDow Sports Complex
Randolph Oaks Golf Course
Hospitals
Baptist Emergency Hospital - Schertz
Randolph AFB Mental Health Clinic
Subdivisions
Airport City, Arrowhead Hills, Arrowood Estates, Arroyo Verde, Arya Grove, Ashley Park, Aviation Heights, Aviator Hills, Belmont Park, Bentwood Ranch, Berry Creek, Braewood at Greenbrook, Buffalo Crossing, Carolina Crossing, Charleston Parke, Chelsea Crossing, Cibolo Valley Ranch, Cimarron Trail Pulte, Cimarron II, Cimarron Landing, Cimarron Trail, Cimarron, Clyde Ford Village, Creekside Ridge, Deer Creek, Dobie Heights. Dove Meadow, Dove Oaks, Enclave at Riata Oaks, Estates at Deer Creek, Estates at Riata Oaks, Estates at Wilson's Preserve, Fairway Ridge, Fairways at Scenic Hills, Forest Creek, Forest of Garden Ridge, Forest Ridge, Forest Waters, Foxbrook, Garden Oaks, Garden Ridge Estates, Gatewood, Georg Ranch, Greenbriar, Greenfield, Greenshire, Hanover Cove, Heights at Cibolo, Horseshoe Oaks, Jonas Woods, Kensington Ranch, Kitty Hawk, Kramer Farm, Landmark Pointe, Lantana, Legacy Oaks, Links at Scenic Hills, Live Oak Hills, Lone Oak Park, Lookout Hollow, Lost Meadows, Mathom Landing, Meadow Hill, Meadow Oaks, Meadow Ridge, Merritt Lakeside Senior, Mesa at Turning Stone, Mesa Oaks, Miramar, Misty Woods, Mobile Village Estates, Nacogdoches Acres, Northcliffe Country Club Estates, Oak Forest, Oak Meadow Estates, Old Cibolo, Old Schertz, Park at Garden Ridge, Parkland, Park Lane Estates, Pecan Grove, Quail Ridge, Red River Ranch, Regency Oaks, Retreat at Chelsea Park, Retreat at Retama Park, Rhine Valley, Riata, Ridge at Deer Creek, Rolling Creek, Saddle Creek Ranch, Saratoga, Savannah Square, Savannah Bluff, Scenic Hills, Sebastian, Sedona. Selma Park Estates, Shadow Creek, Shady Meadows, Spring Tree, Springs at Live Oak, Springwood, Stonecrest, Sycamore Creek, The Crossvine, The Enclave at Willow Pointe, The Legacy at Forest Ridge, The Village, Thistle Creek, Town Creek Village, Town Creek West, Town Square, Trails at Kensington Ranch, Trophy Oaks, Turning Stone, Waterford Park, West Old Cibolo, Westland, Whisper Meadows at Northcliffe, Wild Wind, Willow Grove, Windy Acres, Windy Meadows, Woodbridge, Woodland Oaks, Woodlands of Garden Ridge, Woodstone, Wynn Brook, Wynter Hill
Location
View Larger Map