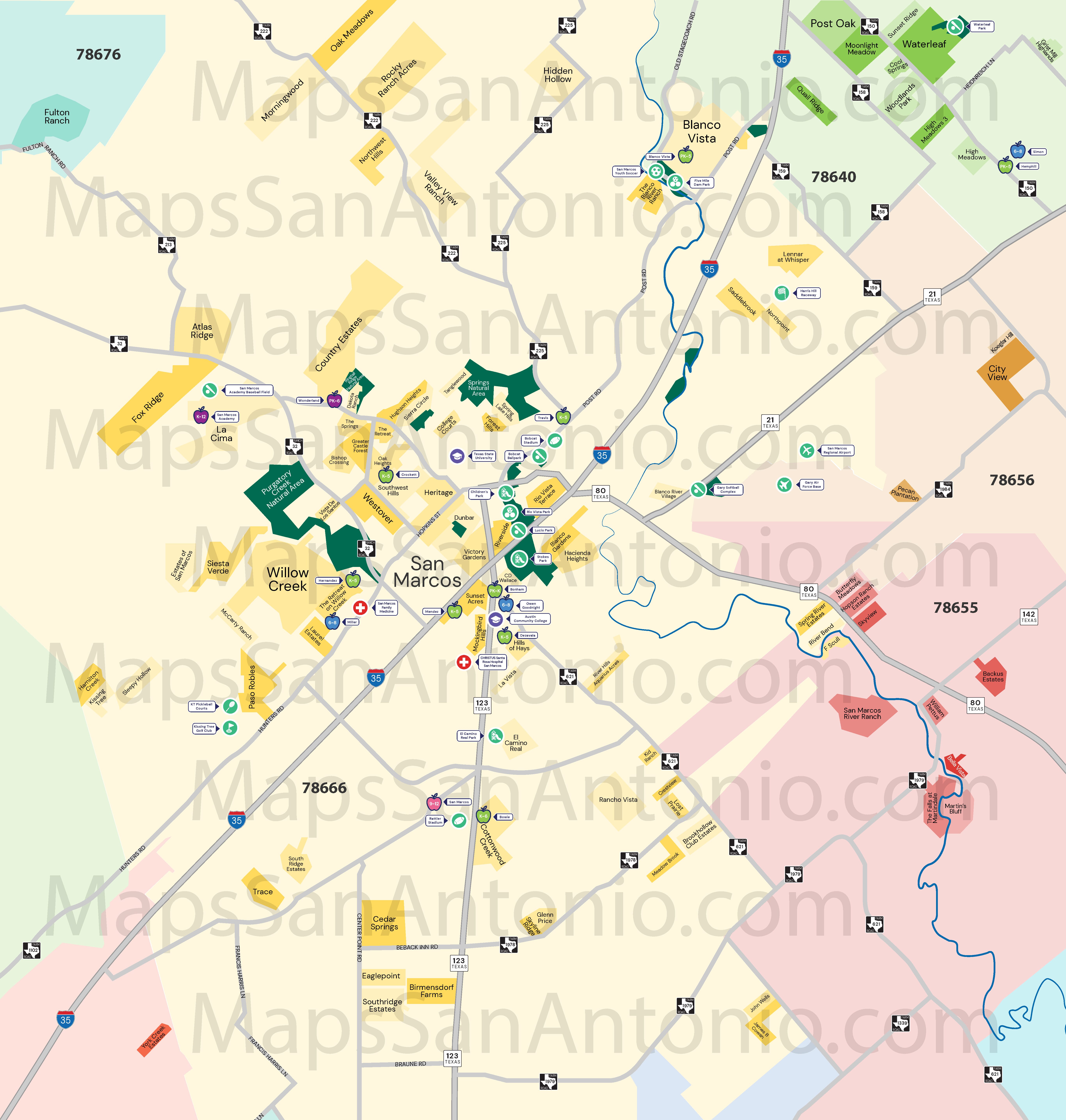 Neighborhood Details
Located along the Austin-San Antonio corridor, San Marcos is a popular visitor destination for residents of both cities and folks from all over the Central Texas region. Founded along the San Marcos River, the city is popular for tubing and enjoying the beautiful outdoors. Served by desirable San Marcos ISD, the city is a popular place to raise a family due to the strength of public education.
The 2020 US Census placed the population of San Marcos at 68,040, making it the 60th largest city in Texas.
San Marcos is the county seat of Hay County, although the city stretches across Caldwell and Guadalupe counties as well. San Marcos is home to Texas State University (founded 1899, student population: 38,000).
Zip Codes
78640, 78655, 78656, 78666, 78676
Points of Interest
San Marcos Academy Baseball Field
San Marcos Regional Airport
Hospitals
Christus Santa Rosa Hospital
San Marcos Family Medicine
Subdivisions
Aquarius Acres, Atlas Ridge, Backus Estates, Birmensdorf Farms, Bishop Crossing, Blanco Gardens, Blanco River Village, Blanco Vista, Brookhollow Club Estates, Butterfly Meadows, CD Wallace, Cedar Springs, City View, College Courts, Cool Springs, Cottonwood Creek, Country Estates, Crestview, Dakota Ranch, Dunbar, Eaglepoint, El Camino Real, Estate of San Marcos, F Scull, Forest Hills, Fox Ridge, Fulton Ranch, Glenn Price, Greater Castle Forest, Grist Mill Highlands, Hacienda Heights, Hamilton Creek, Heritage, Hidden Hollow, High Meadows 3, High Meadows, Hills of Hays, Hopson Ranch Estates, Hughson Heights, James B. Cowan, John Wells, Kid Ranch, Kissing Tree, Koeglar Hill, La Cima, La Vista, Laurel Estates, Lenner at Whisper, Lost Prairie, Martin's Bluff, McCarty Ranch, Meadow Brook, Mockingbird Hills, Moonlight Meadow, Morningwood, Northpoint, Northwest Hills, Oak Heights, Oak Meadows, Paso Robles, Pecan Plantation, Post Oak, Quail Ridge, Rancho Vista, Rio Vista Terrace, River Hills, Riverside, Rocky Ranch Acres, Saddlebrook, San Marcos River Ranch, Sierra Circle, Siesta Verde, Skyline Ridge, Skyview, Sleepy Hollow, South Ridge Estates, Southwest Hills, Spring Lake Hills, Spring River Estates, Sunset Acres, Sunset Ridge, Tanglewood, The Blanco River Ranch, The Falls at Martindale, The Retreat on Willow Creak, The Retreat, The Springs, Trace, Valley View Ranch, Victory Gardens, Vista De Los Santos, Waterleaf, Westover, William Pettus, Willow Creek, Woodlands Park, York Creek Estates
Location
View Larger Map