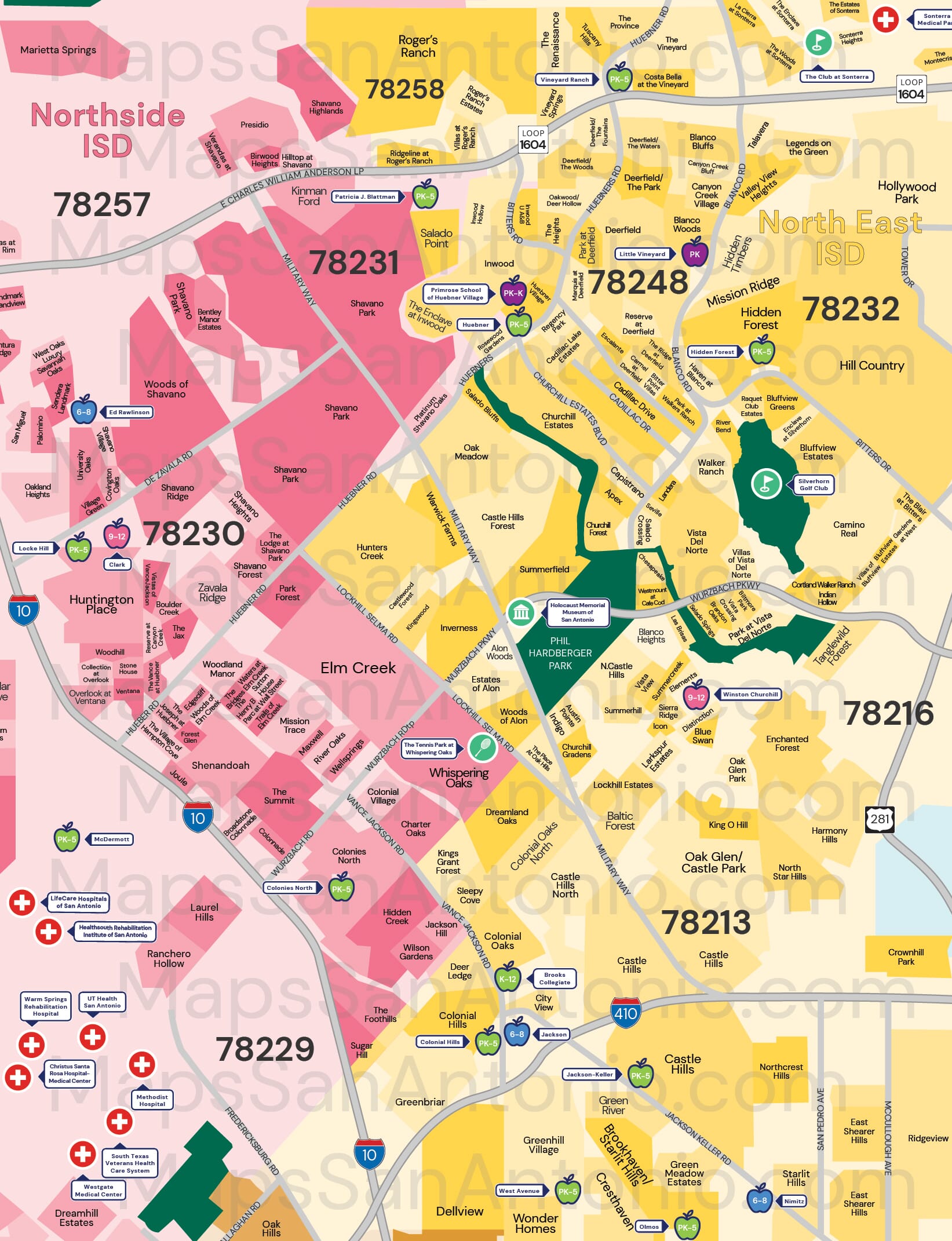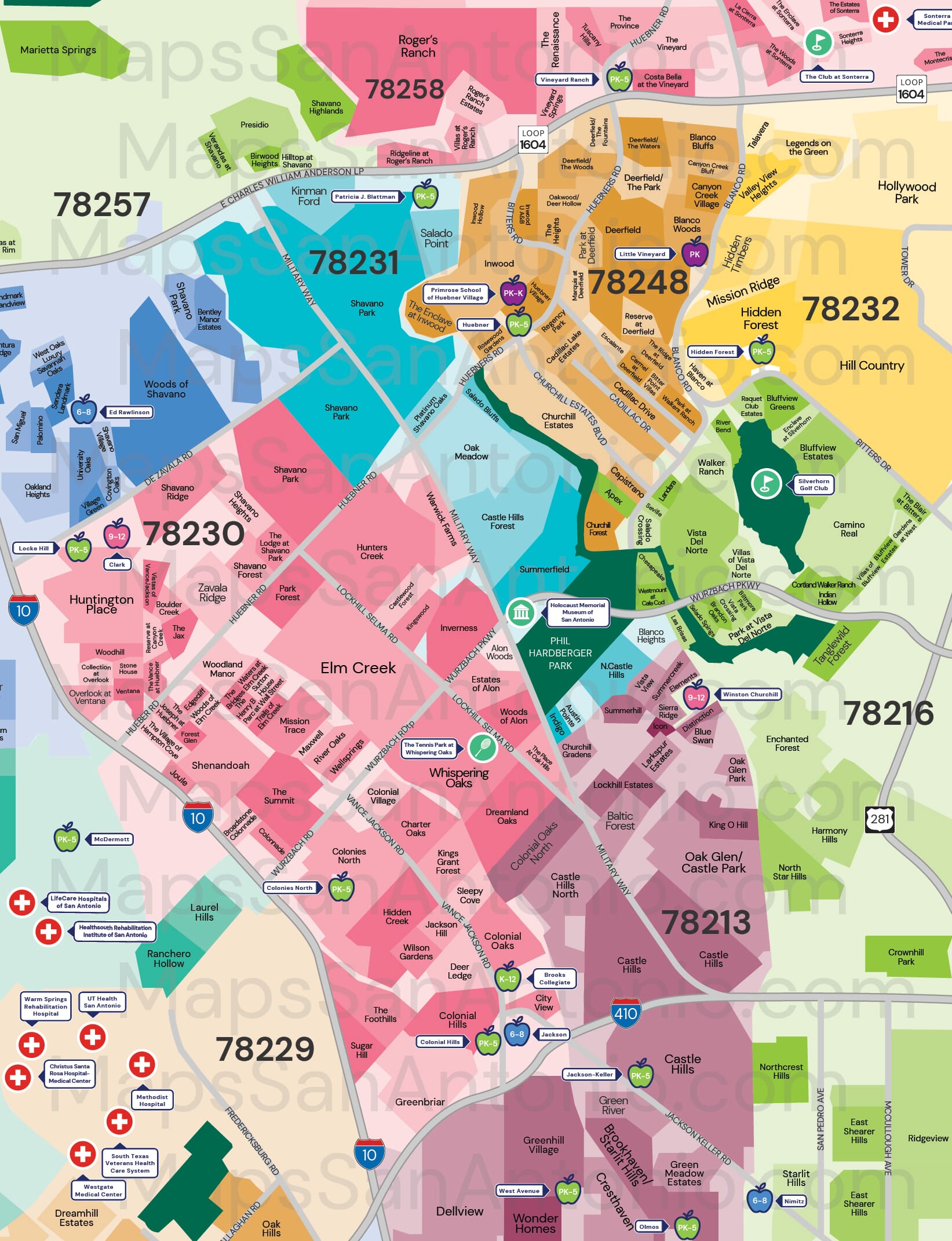 Neighborhood Details
North San Antonio is known for excellent schools, served by Northside ISD and North East ISD. Zip code 78229 is also home to a number of hospitals, including: University of Texas Health San Antonio, Methodist Hospital, and Christus Santa Rosa Hospital Medical Center. Residents enjoy proximity to Phil Hardberger Park Conservancy, featuring 7.5 miles of trails, playscapes and dog parks, to name only a few amenities. The park opened in 2010 after the City of San Antonio bought the property in 2007 (a signature project of a 2007-2012 bond program).
Popular North neighborhoods include Shavno Park, which is a city founded in 1956, home to over 4,000 residents in the 2020 US Census. Within Shavno Park, homebuyers find subdivisions including: Old Shavno Park, Shavno Park Estates, Shavno Creek, De Zavala Estate, Bentley Manor, Huntington, Willow Wood, and Pond Hill Garden Villas.
A similar enclave, Castle Hills, is home to 4,485 residents in the 2020 US Census and is served by North East ISD.
Another rapidly growing area is Hollywood Park, with over 3,000 residents in the 2020 US Census. Established in 1955, the town enjoys a Texas Hill Country quality of life.
Zip Codes
78213, 78216, 78229, 78230, 78231, 78232, 78248, 78257, 78258
Private Schools
Primrose School of Huebner Village
Points of Interest
Holocaust Memorial Museum of San Antonio
The Tennis Park at Whispering Oaks
Hospitals
Christus Santa Rosa Hospital Medical Center
Healthsouth Rehabilitation Institute of San Antonio
LifeCare Hospitals of San Antonio
South Texas Veterans Health Care System
Warm Springs Rehabilitation Hospital
Subdivisions
Alon Woods, Apex, Austin Pointe, Baltic Forest, Bentley Manor Estates, Biltmore Park, Birwood Heights, Bitter Point Villas, Blanco Bluffs, Blanco Heights, Blanco Woods, Blue Swan, Bluffview Estates, Bluffview Greens, Boulder Creek, Brandon Oaks, Broadstone Colonnade, Brookhaven/Starlit Hills, Cadillac Drive, Cadillac Lake Estates, Camino Real, Canyon Creek Bluff, Canyon Creek Village, Capistrano, Caramel at Deerfield, Castle Hills Forest, Castle Hills North, Castle Hills, Castlewood Forest, Charter Oaks, Churchill Forest, Churchill Gardens, Churchilll Estates, City View, Collection at Overlook, Colonial Hills, Colonial North, Colonial Oaks, Colonial Village, Colonies North, Colonnade, Cortland Walker Ranch, Costa Bella at the Vineyard, Covington Oaks, Cresthaven, Crownhill Park, Deer Ledge, Deerfield, Deerfield/The Park, Deerfield/The Waters, Dellview, Distinction, Dreamland Oaks,East Shearer Hills, Edgecliff, Elements, Elm Creek, Enchanted Forest, Enclave at Silverthorn, Escalante, Estates of Alon, Forest Glen, Gardens at West, Green Meadows Estates, Green River, Greenbriar, Greenhill Vilage, Harmony Hills, Haven at Blanco, Hidden Creek, Hidden Forest, Hidden Timbers, Hill Country, Hilltop at Shavano, Hollywood Park, Huebner Village, Hunters Creek, Huntington Place, Icon, Indian Hollow, Indigo, Inverness, Inwood Hollow, Inwood, Jackson Hill, Joule, King O Hill, Kings Grant Forest, Kingswood, Kinman Ford, La Cierra at Sonterra, Landera, Larkspur Estates, Las Brisa, Laurel Hills, Legends on the Green, Lockhill Estates, Marietta Springs, Marquis at Deerfield, Maxwell, Mission Ridge, Mission Trace, North Castle Hills, North Star Hills, Northcrest Hills, Oak Glen Park, Oak Glen/Castle Park, Oak Hills, Oak Meadow, Oakland Heights, Overlook at Ventana, Palomino, Parc at Wall Street, Park at Deerfield, Park at Vista Del Norte, Park at Walkers Ranch, Park Forest, Platinum Shavano Oaks, Presidio, Racquet Club Estates, Ranchero Hollow, Reserve at Canyon Creek, Reserve at Deerfield, Ridgeline at Roger's Ranch, Ridgeview, River Bend, River Oaks, Roger's Ranch Estates, Roger's Ranch, Rosewood Gardens, Salado Bluffs, Salado Crossing, Salado Point, Salado Springs, San Miguel, Savannah Oaks, Sendera Landmark, Seville, Shavano Forest, Shavano Heights, Shavano Highlands, Shavano Park (78230), Shavano Park (78231), Shavano Park (78249), Shavano Ridge, Shavano Village, Shenandoah, Sierra Ridge, Sleepy Cove, Sonterra Heights, Startlit Hills, Stone House, Sugar Hill, Summercreek, Summerfield, Summerhill, Sutton House, Talavera, Tanglewild Forest, The Blair at Bitters, The Bridges, The Enclave at Inwood, The Enclave at Sonterra, The Estates of Sonterra, The foothills, The Henry B, The Jax, The Joseph at Huebner, The Lodge at Shavano Park, The Montecristo, The Place at Oak Hills, The Province, The Renaissance, The Ridge at Deerfield, The Summit, The Vence at Huebner, The Village of Hampton Cove, The Vineyard, The Woods at Sonterra, Trails of Elm Creek, Tuscany Hills, University Heights, Valley View Heights, Ventana, Verandas at Shavano, Village Green, Villas at Roger's Ranch, Villas of Bluffview, Villas of Vistas Del Norte, Vineyard Springs, Vista Crossing, Vista Del Norte, Vista View, Vistas of Vance Jackson, Walker Ranch, Waters at Elm Creek, Warwick Farms, Wellspring, West Oaks Luxury, Westmount at Cape Cod, Whispering Oaks, Wilson Gardens, Wonder Home, Woodhill, Woodland Manor, Woods of Alon, Woods of Elm Creek, Woods of Shavano, Zavala Ridge
Location
View Larger Map