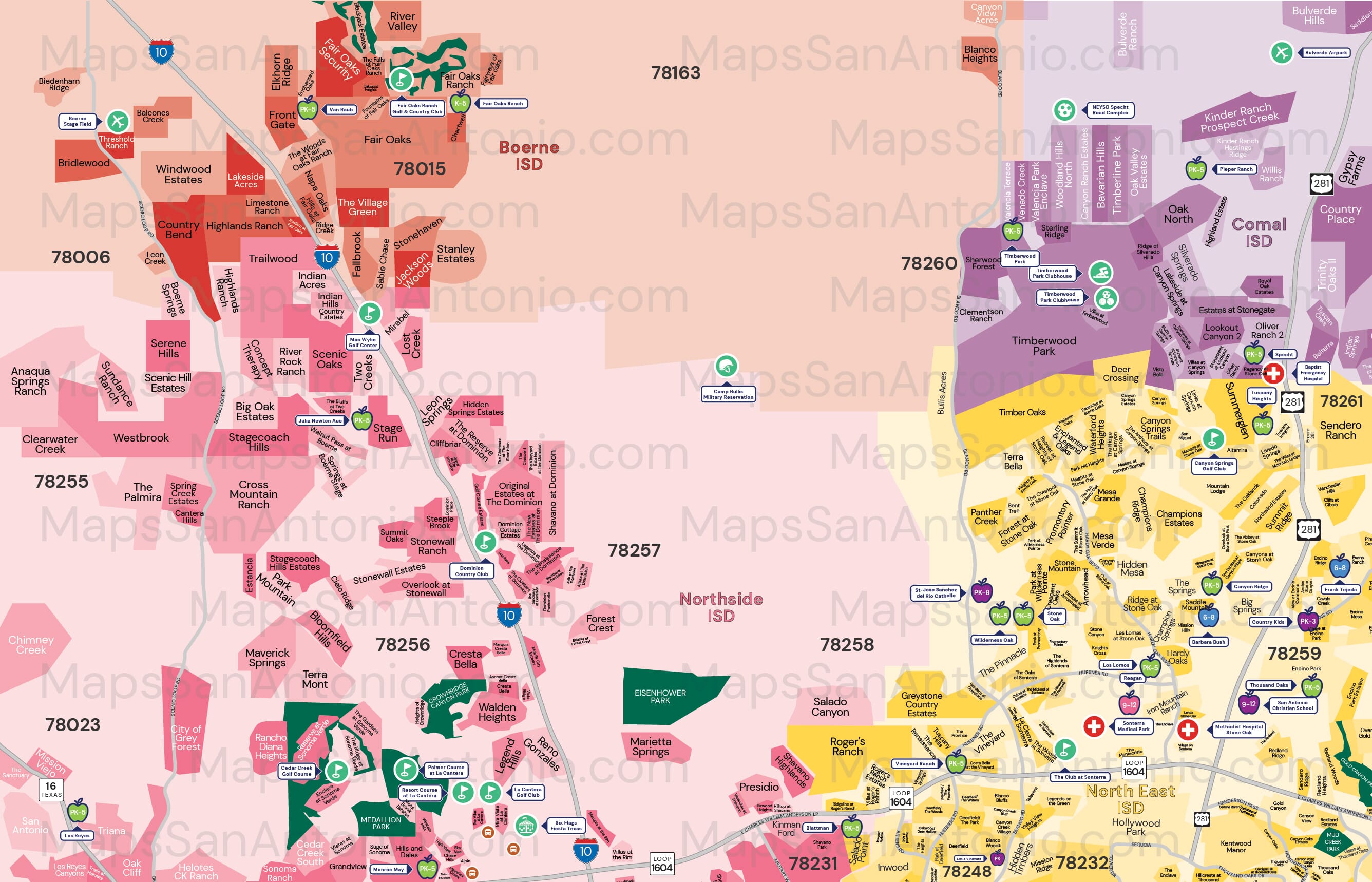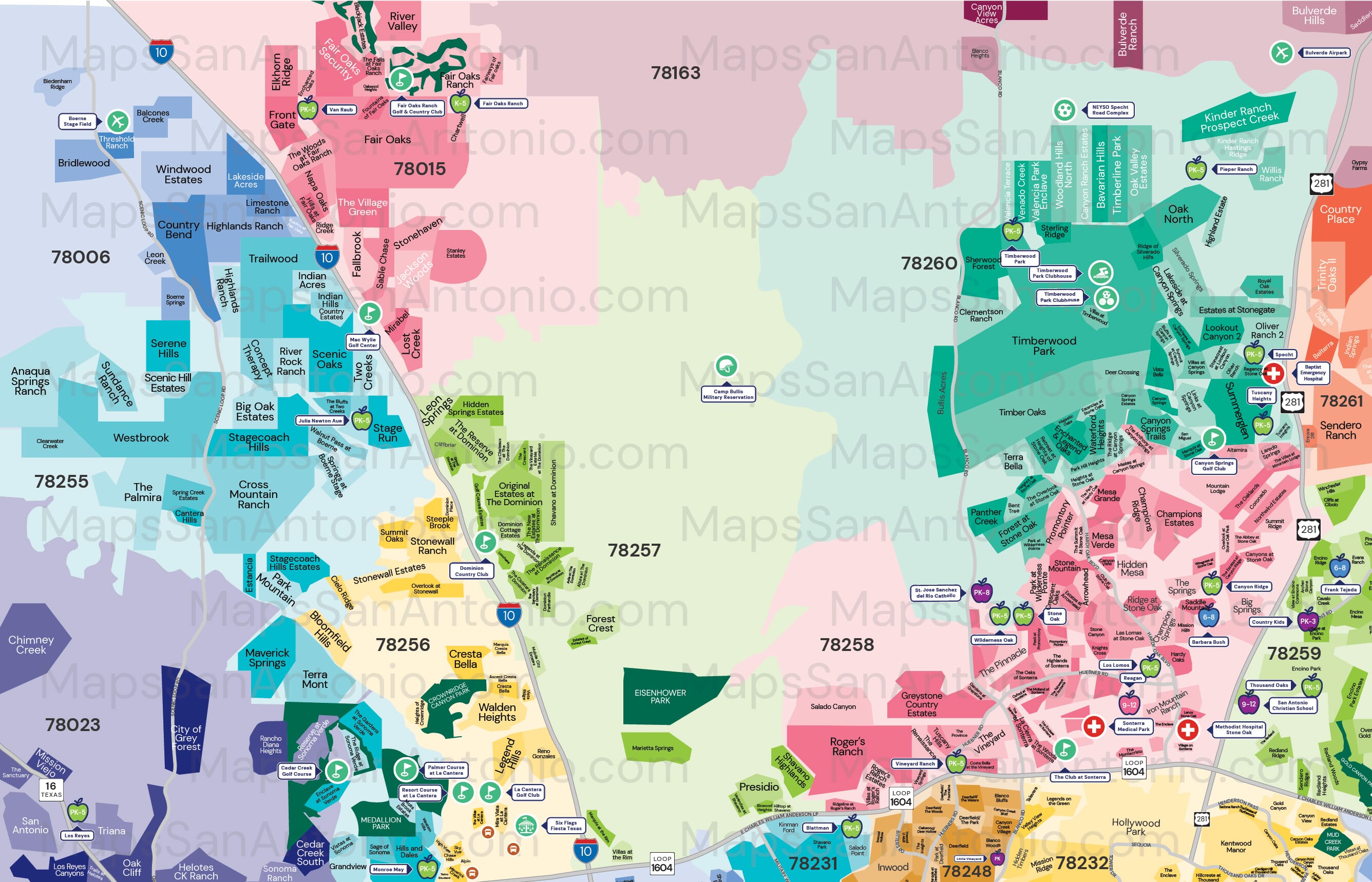 Neighborhood Details
Welcome to Boerne, Texas. Boerne's lively downtown offers a variety of cafes, bars, restaurants, antique shops, and bazaars. Events and activities are frequent, including Boerne Market Days and Chocolate Walk, where vendors in Hill Country Mile pass out chocolate as shoppers pass by enjoying food and beverages. Boerne has three great breweries: Cibolo Creek Brewing, Kinematic Brewing Company and Dodging Duck Brewhaus. Sip your local brews while you sit and gaze at beautiful landscapes. 
Boerne is an ideal place to live for those looking for acres upon acres of nature to explore and still drive less than an hour to interior San Antonio.
Residents of Boerne love the Hill Country life!
Zip Codes
78006, 78023, 78105, 78163, 78231, 78232, 78248, 78255, 78256, 78257, 78258, 78259, 78261
Private Schools
Little Vineyard Preschool
San Antonio Christian School
St. Jose Sanchez del Rio Catholic
Points of Interest
Camp Bullis Military Reservation
NEYSO Specht Road Complex
Palmer Course at La Cantera
Resort Course at La Cantera
Timberwood Park Clubhouse
Hospitals
Baptist Emergency Hospital
Subdivisions
Alpin, Altamira, Altura at The Dominion, Anaqua Spring Ranch, Archer Stone Canyon, Arrowhead, Ascent Cresta Bella, Ashley Oaks, Avila at The Dominion, Balcones Creek, Bavarian Hills, Belterra, Bent Tree, Biedenham Ridge, Big Oaks Estates, Big Springs, Birwood Heights, Blackjack Estates, Blanco Bluffs, Blanco Woods, Bloomfield Hills, Bluffs at Canyon Springs, Boerne Springs, Brenthurst at The Dominion, Bridlewood Threshold Ranch, Bulverde Hills, Bulverde Ranch, Cantera Hills, Canyon Creek Village, Canyon Oaks, Canyon Oaks, Canyon Point, Canyon Ranch Estates, Canyon Springs, Canyon Springs Estates, Canyon Springs Trails, Canyon View (78232), Canyon View (78258), Canyon View Acres, Canyons at Stone Oak, Cardigan Hill at Thousand Oaks, Cavalo Creek, Cedar Creek South, Champion Estates, Champion Ridge, Champion Springs, Chase Hills, Chartwell, Chimney Creek, Cielo Ridge, City of Grey Forest, Clearwater, Clementson Ranch, Cliffbrier, Cliffs at Cibolo, Club at Stone Oak, Canyon Creek Bluff, Concept Therapy, Coronado, Costa Bella at the Vineyard, Country Bends, Country Estates, Country Place, Crescent Oaks, Cresta Bella, Cross Mountain, Deerfield, Deerfield/The Fountain, Deerfield/The Park, Deerfield/The Waters, Deerfield/The Woods, Dominion Cottage Estates, Dominion Panhandle, Dominion Place, Elkhorn Ridge, Enchanted & Legend Oaks, Enchanted Oaks, Encino Mesa, Encino Park, Encino Park Estates, Encino Ridge, Enclave at Sonoma Verde, Enclaves at Canyon Springs, Encore 281, Estancia, Estancia at Stone Oaks, Estates at Arrowhead, Estates at Stonegate, Estates of Forest Crest, Evans Ranch, Fair Oaks, Fair Oaks Ranch, Fair Oaks Security, Fallbrook, Forest at Stone Oak, Forest Crest, Fountains of Fair Oaks, Front Gate, Gardens at Greystone, Gold Canyon, Golf Course Estates, Grand at The Dominion, Grandview, Greystone Country Estates, Hardy Oaks, Heights at Stone Oak, Heights of Crown Ridge, Helotes CK Ranch, Hidden Mesa, Hidden Springs Estates, Hidden Timbers, High View, Highland Estate, Highland Ranch, Highlands Ranch, Hillcreste at Thousand Oaks, Hills and Dales, Hills at Fair Oaks, Hilltop at Shavano, Hollywood Park, Indian Acres, Indian Hills, Indian Springs, Inwood, Inwood Hollow, Inwood U A&B, Iron Mountain Ranch, Jackson Woods, Kentwood Manor, Kinder Ranch Prospect Creek, Kinder Ranch Hasting Ridge, Kinman Ford, Knights Cross, La Cierra at Sonterra, Lakeside Acres, Lakeside at Canyon Springs, Laredo Springs, Las Lomas at Stone Oak, Legend Hills, Legends at The Dominion, Legends on the Green, Lenox Stone Oak, Leon Creek, Leon Springs, Limestone Ranch, Links at Canyon Springs, Lookout Canyon 2, Los Reyes Canyons, Lost Creek, Lucchese, Majestic Oaks, Marquis at Deerfield, Marquis at Stone Oak, Marquis at the Rim, Marquis Cresta Vella, Maverick Hills, Maverick Springs, Mesa Grande, Mesa Verde, Mesas at Canyon Springs, Mira Vista at La Cantera, Mirabel, Mission Hills, Mission Ridge, Mission Viejo, Mobile City Estates, Moss Brook Estates, Mountain Lodge, Napa Oaks, Northwind Estates, Oak Cliff, Oak North, Oak Valley Estate, Oakwood Heights, Oakwood/Deer Hollow, Oliver Ranch , Oliver Ranch 2, Original Estates at The Dominion , Overlook at Stone Oak Park, Overlook at Stonewall, Oxford at Sonterra, Panther Creek, Park at Deerfield, Park at Wilderness Pointe, Park Mountain, Parks at Wilderness Pointe, Peak at Promontory, Presidio, Promontory Pointer, Redland Estates, Redland Heights, Redland Ridge, Redland Woods, Regency at Stone Oak, Reno Gonzales, Reserve at Sonoma Verde, Retreat at Heights of Stone Oak, Ridge at Stone Oak, Ridge Creek, Ridge of Silverado Hills, Ridgeline at Roger's Ranch, River Rock Ranch, River Valley, Roger's Ranch, Roger's Ranch Estates, Royal Oak Estates, Sable Cheese, Saddle Mountain, Saddle Ridge, Sage of Sonoma, Salado Canyon, Salado Point, San Antonio, San Miguel, Scenic Hills Estates, Scenic Oaks, Sedona Ranch, Sendero Ranch, Sendero Ridge, Serene Hills, Shavano at Dominion, Shavano Highlands, Shavano Park, Sherwood Forest, Silverado Springs, SkyVue, Sonoma Ranch, Springs at Boerne Stage, Stage Run, Stagecoach Hills, Stagecoach Hills Estates, Stanley Estates, Steeple Brook, Sterling Ridge, Stone Canyon, Stone Mountain, Stonecrest at Lookout Canyon, Stonehaven, Stonewall Estates, Stonewall Ranch, Summerglen, Summit at Canyon Springs, Summit Oaks, Summit Ridge, Sundance Ranch, Talavera, Terra Bella , Terra Mont, Tetro Student, The Abbey at Stone Oak, The Anthony at Canyon Springs, The Bluffs of Two Creeks , The Chateaux at The Dominion, The Cloisters of Dominion, The Crescent, The Enclave (78232), The Enclave (78258), The Enclave at Sonterra, The Estates at Canyon Ridge, The Estates of Northwoods, The Fairways of Sonterra, The Falls at Fair Oaks Ranch, The Garden at Sonoma Verde, The Heights, The Highlands of Sonterra, The Midland of Sonterra, The Montecristo, The New Estates at The Dominion, The Oaklands, The Oaks of Sonterra, The Overlook at Stone Oak, The Palmira, The Park at Hardy Oak, The Pinnacle, The Province, The Redland, The Renaissance, The Renaissance at Dominion, The Reserve at Old Fredericksburg Road, The Reserves at Dominion, The Ridge at Canyon Springs, The Ridge at Sonoma Verde, The Sanctuary, The Sanctuary at Dominion, The Seventh, The Springs, The Summit at Stone Oak, The Village Green, The Villas at La Cantera, The Villas at Mountain Lodge, The Vineyard, The Vineyard Estates at The Dominion, The Woods at Sonterra, Thousand Oaks, The Woods at Fair Oaks Ranch, Timber Oaks, Timberline Park, Trails at Helotes, Trailwood, Triana, Trinity Oaks II, Tuscan Oaks, Tuscany Hills, Two Creeks, Verandas at Shavano, Valencia Park Enclave, Valley View Heights, Velancia Terrace, Venado Creek, View at Encino Commons, Village at Encino Park, Village on Sonterra, Villas at Canyon Springs, Villas at Roger's Ranch, Villas at the Rim, Villas at Timberwood, Villas of Henderson, Vineyard Springs, Vista Bella, Vista Ridge, Vistas at Sonoma, Vistas of Thousand Oaks, Walden Heights, Walnut Pass at Boerne, Waterford Heights, Westbrook, Wester Hills, Willis Ranch, Winchester Hills, Windwood Estates, Wiregrass at Stone Oak, Woodland Hills North
Location
View Larger Map